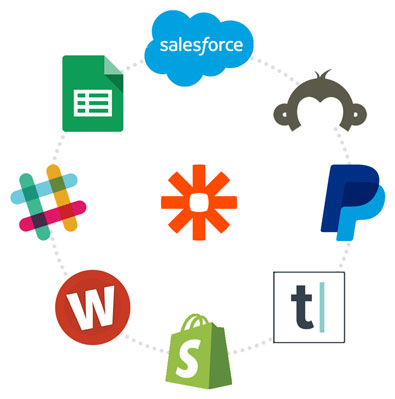 No app is an island! Now, with our new Zapier integration, you can plug Direct Mail into a whole universe of web services and create automations that save you time and headache. No programming skills required! You can connect Direct Mail to services like Salesforce, Slack, and Shopify (and even ones that don't start with the letter "S", like PayPal and Google Forms 😃). Getting started is free, and you can be up and running in a matter of minutes. Read on for more information.
What's Zapier?
Zapier is a popular website that allows you to easily connect two web services (or apps) together and send data between them. This lets you create some really convenient automations, called "zaps". Zapier currently supports over 400 different web services and apps, including Direct Mail. Click here to see some of what you can do on Zapier.
What can I do with it?
Lots! What if you could automatically send your new Salesforce leads to a mailing list in Direct Mail? What if you could send notifications to your Slack chat room each time someone signed up for your list? We've put together a list of some of the most popular Direct Mail integrations, but rest assured you can do a lot more than what's listed below. To create your own custom zaps, visit Zapier to get started.
How do I get started?
You'll need two things to get started: a Direct Mail account and a Zapier account. You already have a Direct Mail account if you've ever purchased from us before. Zapier accounts are available for free on the Zapier website.
Zapier integrations require that your Direct Mail project be stored in the cloud. Cloud storage is a new feature in Direct Mail 4 that opens up new possibilities for collaboration, automation, and integration. You can learn more about cloud features here.
Your apps work best when they work together. By connecting Direct Mail to Zapier, you can automate away tasks that you once had to do by hand, saving you time and headache. We are excited at the possibilities that this new integration allows and look forward to seeing how you use it to enhance your productivity.